Profile of James Robinson Johnston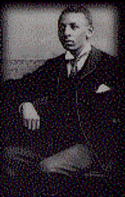 James Robinson Johnston
1876-1915
James Robinson Johnston was born in Halifax, Nova Scotia, in 1876. He was the son of William Johnston and the grandson of the Reverend James Thomas, a hat store proprietor.
After attending the Albro Street School, Maynard Street Separate School and the Halifax Academy, he enrolled at Dalhousie University at the age of 16. He received his Bachelor of Letters degree in 1896 and his Bachelor of Laws degree in 1898, becoming the first member of Nova Scotia's Black community to graduate in law, and to graduate from a university.
In 1901, on the death of his mentor, Thomas Bulmer, Johnston took over his practice and soon soon became well known as a military lawyer. He was also successful as a criminal lawyer.
During the course of his career he was described by the Halifax Herald as a "good lawyer," a "pre-eminent citizen" and an "ornament" to the Bar of Nova Scotia.
James Robinston Johnston gained prominence in local politics, often being in frequent demand as a speaker for the Conservative Party, and was also a member of the Masonic Order, the Independent Order of Odd Fellows and the Wilberforce Lodge.
Affectionately known simply as "Lawyer Johnston", he served his church, the Cornwallis Street United Baptist Church, long and well, as clerk and Sunday school superintendent. He was an organizer of the Baptist Youth Provincial Union and served as its president. From 1906 to 1915, he was also clerk of the African United Baptist Association.
In 1908, Lawyer Johnston proposed the establishment of a preparatory Agricultural and Industrial School to educate Black young people. This proved to be the forerunner of the Nova Scotia Home for Colored Children, an institution for the care of neglected and orphaned Black children.
Revered by his friends and colleagues, and highly regarded as a lawyer and gentleman, Lawyer Johnston was known to be a man of his word.
He died an untimely death on March 3, 1915, at the age of 39. According to reports of the day, his funeral was attended by "an enormous crowd" and the streets between his church and Camp Hill Cemetery were lined with people paying their last respects to a popular and respected citizen.
Dalhousie University has established an Endowed Chair in his name, the James Robinson Johnston Chair in Black Canadian Studies, dedicated to the study of Black Canadian perspectives, history, culture and contributions.