Esmeralda M.A. Thornhill is a lawyer, linguist, and pedagogue by training, a lecturer, researcher, anti-racism trainer and writer by experience, and a community advocate and organizer by conviction.
A seasoned Human Rights educator, she is currently a tenured Full Professor of Law at Schulich School of Law, Dalhousie University, where she was appointed the first scholar to anchor and pilot the distinguished James Robinson Johnston Endowed Chair in Black Canadian Studies (1996-2002), an unprecedented national initiative "established to bring Black culture, reality, perspectives, experiences and concerns into the Academy".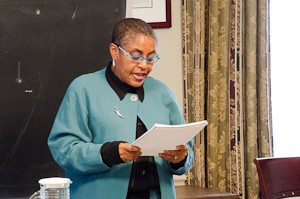 Called to the provincial Bars of both Quebec (1987) and Nova Scotia (1998), Professor Thornhill is also a 2006-2007 Canada-US Fulbright Visiting Scholar (Temple University). In 2012 McGill University invited her to serve as the First O'Brien Fellow in Residence and inaugurate this programme for human rights professionals to visit and contribute to the McGill Centre for Human Rights and Legal Pluralism. Since 2014, Professor Thornhill holds a Research Associate affiliation with the Simone de Beauvoir Institute of Concordia University.
Education And Professional Training
In addition to an undergraduate Joint Honours degree in Latin and Spanish from McGill University, Professor Thornhill's academic training includes Post Graduate Studies in Spanish,
French, and Pedagogical Sciences at the Université de Montréal, McGill, and Denver Universities. She also holds a Law degree from the Université du Québec à Montréal and a Diploma in International and Comparative Law from the University of San Diego (Paris, France). Fluently trilingual in English, French and Spanish, this scholar has completed international internships examining 'race' both in England and in France at UNESCO headquarters.
Anti-Apartheid Legal Education And Advocacy
From 1987-1988, she spent the year on secondment in Washington, D.C. as an International Fellow doing anti-apartheid Legal Education and NGO (Non-Governmental Organization) Advocacy with the Lawyers' Committee for Civil Rights Under Law. During this time, she was responsible for the Red Ribbon Campaign launched to save the lives of the Sharpeville Six and her research on the use of the death penalty by South Africa is reproduced and chronicled in the U.S. Congressional Record, ("The Sharpeville Six and the Death Penalty in South Africa". Congressional Record. Proceedings and Debates of the 100th Congress of the United States, 2 ed., 134 No. 32, March 16, 1988).
© 2022 Esmeralda M.A. Thornhill. All Rights Reserved.
Esmeralda M.A. Thornhill and individual contributors hold copyright to their respective contributions. Please provide appropriate acknowledgment and attribution when quoting parts of this website's material in print, microfilm, or any other electronic form, and secure prior permission from individual authors for any reproduction beyond fair dealing.